Monkey Treasures Galore...children's wooden toys & gifts
Newsletter
Subscribe to our newsletter for updates, specials and general monkey business!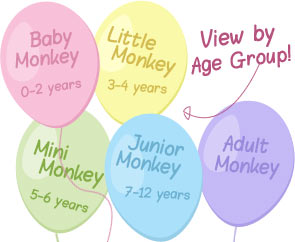 PLASTER BUILDINGS SETS
Check out the fabulouse range of Plaster Buidling Sets from Wise Elk. These are the perfect gift for older kids and will provide hours of creative entertainment for 5 years olds plus!!!
BABY TOYS GALORE
Learning through play is easy to do with our fabulous selection of gorgeous, colourful and fun toys for your tiny little monkeys! From soft bell balls & cuddly skittles, to wooden jointed worms and balancing bears - our monkey range of baby toys is ready to enjoy!
SENSORY HELP IS HERE
If you're looking for Sensory toys to help your precious monkey fill their sensory bucket so they can stay focussed, take a look at this great range for all ages.
NEW ARRIVALS for ALL AGES
New toys just in time for Christmas!
There's something in this new shipment for ALL AGES! Just in time for Christmas, these gorgeous new toys and gifts are now available, so get in quick and order yours TODAY!
CONSTRUCTION FUN FOR LITTLE ENGINEERS!
The perfect innovative toy for 5+ has arrived!!
Handmade with love, these eco-friendly plaster building kits from Wise Elk offer a variety of intricate designs for growing minds to enjoy! Everything you need to construct your building is in the tub including the base design, mini bricks, tiles, detailed instructions and even the glue!
With over 20 designs to choose from and ranging in size from 315 bricks to 4300 bricks, this toy will help kids realise their creative potential. It is put together using PVA glue and is Reusable! Simply put the bricks into water for a short time and you can easily separate and then rebuild. Follow the design or use your imagination. The fun with these versatile toys is endless.
NEW SMART GAMES
Three brand new Smart Games to add to your collection. Ghosts, 3D pieces & colour tiles to challenge both young and old.
TODDLERS ARE NOW SAFE IN THE KITCHEN!
A BRILLIANT INVENTION that's brand new to the market - Safety Food Peelers & Kutters - PERFECT for little people! The PEELER has NO BLADE so there are no cut fingers and the KUTTER has a stainless steel safety blade with an easy grip handle that suits both left & right handers. They are suitable for children, the elderly or people with special needs and are also BPA free and Dishwasher safe. A must have in any kitchen!
PUZZLES THAT PACK AWAY!
Perfect for Grandparents to have on hand! These brilliant puzzles are colourful, fun and cleverly designed to give kids of all ages hours of fun. Best of all, they are made with sturdy card and pack away neatly into their very own suitcase.
Choose from the beautiful Dance puzzle, the Fireman puzzle with an extra activity around the outside or the World Map that can also double as a piece of decor.