Monkey Treasures Galore...children's wooden toys & gifts
Newsletter
Subscribe to our newsletter for updates, specials and general monkey business!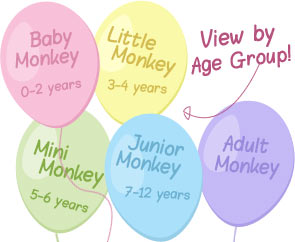 Fathers Day Gifts Now Available
Check out the fabulouse range of Smart Games & Metal Earth 3D Models now available for Fathers Day!
SAVE $$$$$$ ON OUR TOP BRIGHT TOYS!
Our TOP BRIGHT range of toys are on SALE till end June! Be quick! Limited Stocks Available!
These cleverly designed block sets from Top Bright provide a unique experience in block bulding, with their specially designed connectors - developing strength in little fingers whilst they play. Beautifully finished, super colourful and packed with a variety of blocks, alphabetic letters, numbers and the choice of bright animals or emergency vehicles - there's a set for both boys and girls to explore!
TODDLERS ARE NOW SAFE IN THE KITCHEN!
A BRILLIANT INVENTION that's brand new to the market - Safety Food Peelers & Kutters - PERFECT for little people! The PEELER has NO BLADE so there are no cut fingers and the KUTTER has a stainless steel safety blade with an easy grip handle that suits both left & right handers. They are suitable for children, the elderly or people with special needs and are also BPA free and Dishwasher safe. A must have in any kitchen!
NATURE PLAY IS HERE TO STAY!!!!
If your children love playing with sand or water, whether its in the sand pit, the bath or at the beach......these fabulously designed toys are a must this SUMMER!!
Nature play is essential to a child's wellbeing and development. It promotes scientific and ecological awareness, problem solving and creativity in our kids and is FUN for everyone!
To help encourage your little monkeys to enjoy the outdoors more, check out these fabulous range of nature play toys now available!
NEW TOOKY TOYS ARE TERRIFIC!
Check out this amazing range of new toys from Tooky. Choose from the NEW Loony Gear game, DIY Plane or Glow in the Dark Clock Puzzle - to the all-in-one musical toy, to colourful puzzles, fun builidng blocks, to the perfect role play toys of a classic high-tea dessert stand or fabulous carpenter set for the budding builder.
School is in.............
Holidays are now over and whether it's returning to or starting school or kindy - we have a great selection of educational toys to suit every age, to help encourage learning in a fun and creative way.
There are also a range of fantastic and colourful toys for those mums with little monkeys still at home, to help them learn their numbers, letters and more.
Get hooked on Smart Games
Smart Games will get you hooked!!! These fabulous logic games challenge little & big monkeys alike. These games are the perfect gift for those who are difficult to buy for. Perfect Christmas Gift that the entire family can enjoy!