About Us
Newsletter
Subscribe to our newsletter for updates, specials and general monkey business!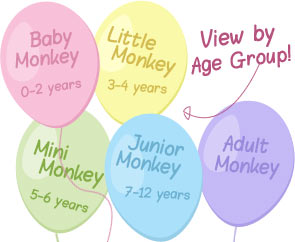 PLASTER BUILDINGS SETS
Check out the fabulouse range of Plaster Buidling Sets from Wise Elk. These are the perfect gift for older kids and will provide hours of creative entertainment for 5 years olds plus!!!
HELLO...welcome to Marshmallow Monkey, a delightful & enchanting place where you'll find lots of monkey treasures. Everything from gorgeous wooden baby rattles handmade in Germany to stunning French designed puzzles & craft sets, bath toys that simply do not go mouldy to challenging & highly addictive logic games that will captivate children & grandparents alike.
As a valued customer for many years, I am absolutely thrilled to be the proud new owner of Marshmallow Monkey.
The opportunity for me to lead Marshmallow Monkey into this next chapter is very exciting.
My passion for kids, toys and learning through play can now be shared through this incredible range of quality and quirky toys that we believe will help stimulate, educate and enchant our little monkeys and their precious imaginations.
Being a mum of two beautiful young boys, I understand & appreciate the importance of learning through play and the value of good quality toys - toys that will last, that are unique, colourful and fun for our monkeys to enjoy.
Our constant search for products that are different & make a difference will continue, as will our commitment to our valued & loyal customers whose appreciation is our reward.
The selections of our ever-expanding range are made, not only on the quality & usefulness of the product but also with consideration to the environment in which they are created.
Our Journey…..
The monkey story started in February 2007 when the Melissa stumbled across what she believed was the perfect toy for her 3 children. Bright & colourful, gender neutral, quality materials, exceptional design, broad age group appeal as well as being a true 'open ended play' toy, which meant it, could be something completely different every time it was played with. It also was quiet (her patience with battery-created ruckus & din had long expired, helped along by a certain plastic phone that would start bleeping & buzzing whenever it sensed that children were sleeping quietly) with not a cartoon character in sight.
Originating in the UK, her excitement bubble burst as soon as it was revealed that she would most certainly have a difficult time trying to get my hands on it locally. Melissa thought if she loved toys like this, surely there were others who shared her passion & with what you might call a gut feeling or a significant gamble, she decided to start a toy store.
On the plane ride home as she planned yet another hectic week of cramming competing commitments into an already full diary, Melissa realised that busy mums didn't need another shop to drag irritable children through as they hurriedly tried to find unique & quirky gifts for family & friends accompanied by trolley dent dodging in the car park. What people really wanted was to multi-task with their two favourite pastimes - shopping & catching up with friends. With this in mind, Marshmallow Monkey was born & the rest, as they say, is history.
I hope you will continue to enjoy our monkey treasures, new & old and make sure you keep an eye out for some new exciting toys, arriving soon
With warm monkey wishes
Robyn and the monkey team