Gifts
Newsletter
Subscribe to our newsletter for updates, specials and general monkey business!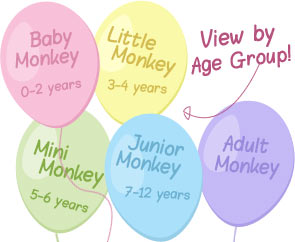 PLASTER BUILDINGS SETS
Check out the fabulouse range of Plaster Buidling Sets from Wise Elk. These are the perfect gift for older kids and will provide hours of creative entertainment for 5 years olds plus!!!
1st birthday gift ideas
Wow, where has that first year gone. From a tiny newborn to a little person moving around everywhere...you can't go wrong with anything that they can push, pull or ride on, stack, nest or hammer. Whether this gift is for your own little monkey or a cherished family member or friend, we've got lots of great ideas to celebrate this milestone. Of course we can send your gift anywhere in Australia, gorgeously gift wrapped with your personalised message in the matching gift tag...now it's just a matter of deciding which monkey treasure you'll choose!
Gifts for 2 year olds
Toddlers are busy little monkeys...exploring everything in their path & learning new skills to take on the world.
Gifts for 3 year olds
Everything mum & dad can do, 3 year old little monkeys want to copy...from helping make dinner to building with tools. Help their imagination and creativity with some fantastic role play products too.
Gifts for 4 year olds
We're off to pre-school, making, doing & gaining our independence. Puzzles, games and construction sets are perfect for busy little four year old monkeys.
Gifts UNDER $10
Choose from this lovely selection of gifts and toys to keep little monkeys busy
Gifts for 5-8 year olds...under $25
Life is hectic enough without having to make a mad dash to the shops to pick up a gift for a monkey friend's party. Keep things stress-free & have wonderful gifts ready to go at home. With plenty of items under $25, you'll wonder why you ever tolerated the last minute rush. Oh yes, we'll wrap them for you at no cost too...we know how busy life is!
Welcome to the world baby monkey
A new arrival brings joy & excitement for family and friends. You're sure to find just the perfect newborn gift from pretty pink to baby blue + our range of gender neutral baby toys means you can buy now & be prepared for when the big day arrives. Of course we have beautiful baby blue or pink gift wrap complete with organza ribbon and matching gift tag...complimentary of course.
Got hard-to-buy-for grown ups in your life? We can help
If socks, jocks, chocolates & hand cream are a definite no no, check out our hugely popular range of Smart Games...solo-play logic puzzles with challenges that increase in difficulty. Be warned: they are extremely addictive & you're likely to get plenty of requests for these gifts.