Games: Smart Games - Hide & Seek Jungle
Availability
In Stock: Posted Within 24-48 Hours
Delivery Charges
$12.00each

Standard Delivery:

$21.95each

Express Post:
Order $150+ for Free Australia Post Standard Delivery!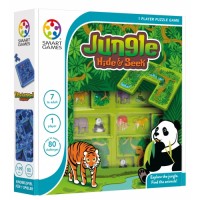 All Product Images:
Price: $35.95
AUD (inc GST)
Product Description
Develop your logical thinking & strategic planning skills with the Hide & Seek Jungle. Put the 4 puzzle pieces on the game board so that only the animals that are on the challenge are visible on the board (& all other animals are hidden). Turn the game over and now do the same but with the 'night' version. Yes 2 games in 1 with Hide & Seek Jungle - great value for money.
80 challenges at four different levels of difficulty from starter to master - all different & increasingly challenging to keep any animal lover busy playing.
All game pieces stack neatly away inside the storage drawer along with game rules & solutions (if you need them). Great game at home (keep it on the coffee table & the whole family will soon be addicted) or take it on holiday (the perfect compact travel game). This game is more difficult than the similarly played Hide & Seek Pirates. Perfect gift for children & adults alike.
Product Details
More Games Products
More Products from Smart Games