Privacy Policy
Newsletter
Subscribe to our newsletter for updates, specials and general monkey business!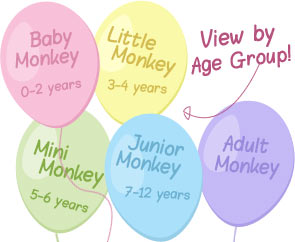 PLASTER BUILDINGS SETS
Check out the fabulouse range of Plaster Buidling Sets from Wise Elk. These are the perfect gift for older kids and will provide hours of creative entertainment for 5 years olds plus!!!
Marshmallow Monkey is dedicated to ensuring the privacy of our customers and have implemented stringent security measures and procedures, so you can rest assured that any details you submit online remain secure.
Definitions
The expression 'personal information' is used inthis policy to refer to information or an opinion about an individual whose identity is apparent, or can reasonably be ascertained, from the information or opinion.
Collection of Personal Information
The type of personal information that Marshmallow Monkey collects about you depends on the transactions you undertake with us. For example we will collect personal information from you if you:
Purchase any products directly or indirectly from Marshmallow Monkey
Subscribe to our newsletter
Generally speaking, the purpose of collection and the minimum information you need to provide, will be conveyed to you at the time of collection.
If you choose not to provide the personal information requested, Marshmallow Monkey may not be able to provide you with the products/services you require.
Additionally, we use technology to track the patterns of behaviour of visitors to our site, which may include Cookies and Google Analytics. A 'Cookie' is a very small piece of information that we store on computer that we require in order to track your session and shopping basket information. You can usually modify your browser to prevent the use of cookies, however this will disable the ordering and checkout facilities of this website.
Use and disclosure of personal information
Your personal information may be used in order to:
Provide the products and services you have requested
Administer and manage service offerings, including charging, billing and collecting debts
Provide you with access to and information about a range of current and future service offerings
Disclosure of Your Personal Information
For the purposes set out above, Marshmallow Monkey may disclose your personal information to third party organisations. The organisations to which Marshmallow Monkey discloses information may include:
External service providers to whom Marshmallow Monkey has contracted out functions, such as our web developer, but only for the purpose of providing the service Marshmallow Monkey has contracted out
Government and regulatory authorities and other organisations, as required or authorised by law
Professional advisers engaged by Marshmallow Monkey

Data Quality
Marshmallow Monkey takes all reasonable precautions to ensure that your personal information is accurate, complete and up-to-date. However, the accuracy of that information depends to a large extent on the information you provide.
We recommend that you:
Advise us if there are any errors in your personal information
Keep us informed if there are any changes to your information
Data Security
Marshmallow Monkey will take reasonable steps to ensure that your personal information is protected from misuse, loss and from unauthorised access, modification or disclosure.
Marshmallow Monkey staff are trained to treat customer information with the utmost confidentiality.
Accessing Your Personal Information
Individuals will be able to access their personal information by contacting us either personally or by mail.
Upon request, Marshmallow Monkey will provide you with access to your personal information, subject to exceptions stated in the Privacy Act. We reserve the right to charge a fee for searching and providing accessto information. If you would like access, please make your request in writing for security reasons.
Credit Card Information
Your security is of utmost importance to us at Marshmallow Monkey and we implement industry standard security precautions to ensure credit card details submitted online are protected from unauthorized parties.
No credit card details are stored on our server and can never be retrieved or viewed by our staff in full.
Marshmallow Monkey uses the Eway Payment Gateway for its online credit card transactions. Eway processes online credit card transactions for thousands of Australian merchants, providing a safe and secure means of collecting payments via the Internet.
All online credit card transactions performed on this site using the Eway gateway are secured payments.
Payments are fully automated with an immediate response.
Your complete credit card number cannot be viewed by Marshmallow Monkey or any outside party.
All transactions are performed under 128 Bit SSL Certificate.
All transaction data is encrypted for storage within Eways bank-grade data centre, further protecting your credit card data.
Eway is an authorised third party processor for all the major Australian banks.
Eway at no time touches your funds; all monies are directly transferred from your credit card to the merchant account held by Marshmallow Monkey.
For more information about Eway and online credit card payments, please visit www.eway.com.au