Learning Tools: STEM Crystal Growing - Glow in the Dark
Availability
In Stock: Posted Within 24-48 Hours
Delivery Charges
Flat rate $13.80 via Australia Post.
Order $150+ for Free Australia Post Standard Delivery!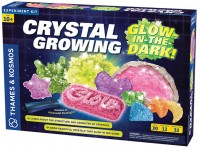 All Product Images:
Price: $89.95
AUD (inc GST)
Product Description
Grow dozens of colourful crystals, including two types of crystals that glow in the dark. Experiment with growing a variety of crystals from a potassium alum salt solution. Add strontium aluminate to your crystal solutions to make phosphorescent crystals that charge up in the light and then glow in the dark on their own, slowly emitting the stored light energy. Or try adding one of two ultraviolet-reactive pigments, pink and greenish-yellow, to your crystals to create fluorescent crystals, which glow in stunning colours under the light from the included ultraviolet flashlight.
Mould fun plaster shapes, including moons, stars, butterflies, neon signs, mushrooms, frogs, and gemstones, and then grow layers of crystals on them. Use dye tablets together with the glowing pigments to experiment with different colour combinations, and mix the dyes to grow a rainbow of custom coloured crystals. Mould your own glowing crystal geode – a hollow rock lined with crystals – and create a beautiful crystal cavern inside.
Experiment with growing crystals rapidly and slowly, and observe how that affects the crystal structures. See if you can grow one giant crystal, and many small crystals on the surface of a rock.
Measure how the crystallisation of solids out of a solution, and the dissolution of crystals back into solution; affect the temperature of the solution. Learn about the energy of crystallisation. Investigate solutions, crystallisation, and the chemistry of crystal growing. Learn about the structures and geometries of different crystal shapes.
This kit is thoroughly tested and nontoxic. A full-colour, 32-page experiment manual guides your experiments in the chemistry of crystals and glowing phenomena.
Product Details
More Learning Tools Products
More Products from Thames & Kosmos